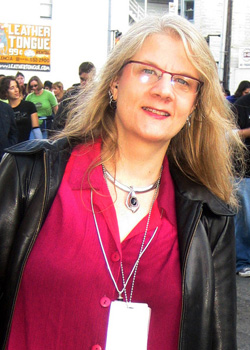 Liz Highleyman

liz@black-rose.com
San Francisco, CA


Selected Writing (medical writing, journalism, and more)
Selected Photos (Hurricane Katrina aftermath; travel to India, Hong Kong, Scandinavia, and more)












---
I am a freelance writer, editor, and health educator. My work spans a range of areas including public health, HIV/AIDS, hepatitis B and C, sex education, global justice activism, civil liberties, censorship, politics of technology, and sexuality and gender issues.

I operate Black Rose Editorial Services.


---
Health Education and Activism











Much of my writing and activism relates to health, patient education, and the politics of health. I received a degree from the Harvard School of Public Health (several years after my undergraduate work in cognitive science and international relations). I have written on health issues for HIVandHepatitis.com, the Bulletin of Experimental Treatments for AIDS (BETA), published by the San Francisco AIDS Foundation, the Hepatitis C Support Project, POZ magazine, NAM's AIDSmap, the Well Project, the Bisexual Resource Center, ACT UP, and others.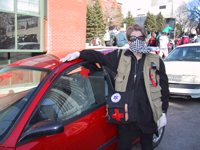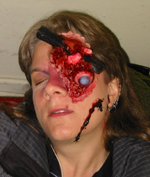 I am a certified emergency medical technician (EMT-B) and a member of San Francisco's Neighborhood Emergency Response Team (NERT).
I've worked as a street medic at several large global justice actions, starting with the Seattle WTO protests in 1999. I'm a co-founder of the Bay Area Radical Health Collective, and am currently working on a book about health and safety for activists.

ABOVE LEFT: Liz with "ambulance" at Quebec City protest
ABOVE RIGHT: Liz as NERT moulage "victim"

Additional health-related projects have included CHAMP-Cannabis Helping Alleviate Medical Problems, a medical marijuana buyers' club; the San Francisco HIV Prevention Planning Council; ACT UP/Boston and the IV League needle exchange program; and the Boston Anarchafeminist Self-Health Group, which published a pamphlet on abortion alternatives entitled Regaining Control.

---
Anarchism and Politics
I consider myself a philosophical anarchist, though an eclectic one without allegiance to any particular party line. I've written widely on the topic of anarchism and radical politics, including an Introduction to Anarchism that has been propagated over the web and translated into several languages.
Since 1999 I have been involved with the global justice movement and have written several related articles, including an article on drug pricing and patents for AlterNet, a long article on AIDS drug access in developing countries for BETA, and an essay on queer activism and the global justice movement for the recently published book From ACT UP to the WTO (Verso, 2001).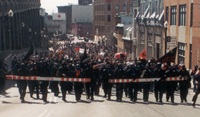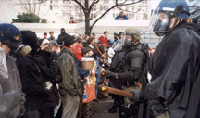 Reports and Photos from Selected Protests
Photos from Quebec City FTAA Protest, 4/01
Scenes from the Battle of Seattle, 12/99
LEFT: Quebec City black bloc
RIGHT: Stand-off in Seattle
I've written for several anarchist publications, including Anarchy: A Journal of Desire Armed, The Fifth Estate, and Love and Rage, of which I was a member of the coordinating group in the early 1990s.


---
Sexual Politics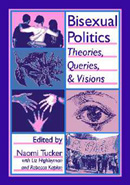 I am a co-editor of The Harvey Milk Institute Guide to Lesbian, Gay, Bisexual, Transgender, and Queer Internet Research (Haworth, 2002) and Bisexual Politics: Theories, Queries and Visions (Haworth, 1995).
My work on sexual politics has appeared in several books, magazines, and newspapers, including the Bay Area Reporter, Spectator, and Cuir Underground newspaper (which I edited from 1994 through 1998).

I also write a bimonthly LGBT/queer history column called "Past Out" for Q Syndicate (syndicated in some 50 publications worldwide).

---
Beagles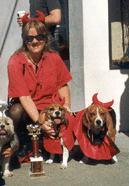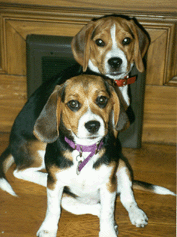 I have two, Tekla (smaller female, born 9/6/96) and Rasken (larger male, born 8/28/96). They are sweet and fun hounds, although often annoying and always hungry. See Tekla and Rasken's Page for more photos.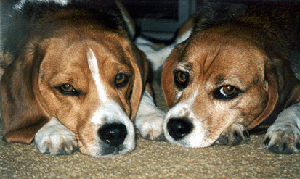 ---



The black rose is a traditional anarchist symbol, along with the black star and the black flag. Many entities -- not all anarchist -- use the black rose name, including a Canadian book publisher, a Danish heavy metal band, numerous Irish pubs, at least one drag bar, and a BDSM group.

---

Back to the Black Rose Home Page

Liz Highleyman
liz@black-rose.com Last updated January 2007